Seasonality of New Movers
While people move every month, the majority of them move during the summer months, influenced by both the school calendar, and the better weather. June, July and August each have 13% of the annual new movers. In just three months, almost 40% of all moves take place.
This is an important factor for the direct marketing industry. If you are successfully mailing a catalog or non-profit fund raising offer to new mover names, this is will obviously impact on your budgeting. If you are using this for lead generation, your lead flow will vary dramatically from one season to the next.
The following chart details the seasonality trends of new movers.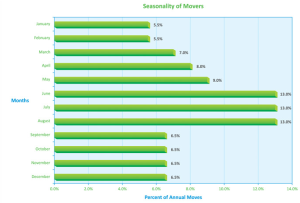 New mover lists continue to represent the most frequently mailed type of list in the nation. We recently published a white paper about new mover lists, with information about why we move, seasonality trends, demographics, geographic mobility, relocation marketing opportunities, and when new movers make their purchasing decisions about products and service.